Print and Finish
Finishing Machines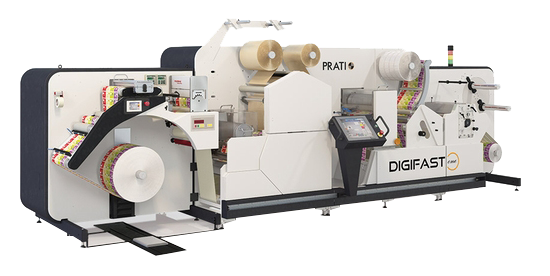 Prati Finishing Machines
Prati is a leader in the label finishing industry at a global level. Centred on innovation, quality and lifelong reliability.
Product Range
Saturn Omnia
Ultimate flexibility in a compact, modular, multiuse platform for SA labels, clear-on-clear labels, cardboard, IML and flexible packaging.
Digifast One
The Digifast One is Prati's top of the range digital finishing solution, offering a modular platform that enables label converters to configure the machine to suit their embellishing needs.
Alhena
The ultimate, versatile finishing line for In-Mould and wet glue labels with an unwinder diameter of up to 1040mm.
Customer Success
"With growth in digital printing, we wanted to efficiently convert digital print into finished labels. This machine has transformed our digital label printing due to its quick setup times and simple operation. The support provided by Prati and its local partner Jet Technologies Indonesia has also been very pleasing."
– Dharmadi Bongso, Managing Director, CCL Master Label